Silver Honey Rapid Wound Repair
New to Burns Feed Store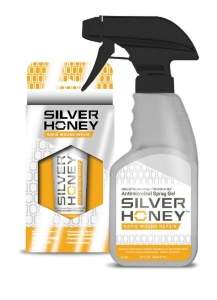 Silver Honey
Rapid Wound Repair
The first product to combine the natural power of Manuka Honey and MicroSilver™ BG, Silver Honey Rapid Wound Repair is equine wound care that's tough on bacteria but gentle on skin. Its revolutionary formula moisturizes the treatment area as it heals and is proven to stop 99.9% of bacteria immediately to start healing faster. It also protects the skin's natural microbiome, so your horses, ponies and animal companions heal quickly and comfortably. Effective on cuts, abrasions, sores, rain rot, rashes, fungus, scratches, sweet itch, wounds and burns.
Available in two convenient application methods:
Spray Gel: Designed to stay in place, Silver Honey spray gel provides continuous coverage to the wound. Its touch-free application is ideal for treating large areas of skin.
Ointment: Long-lasting coverage and moisture, Silver Honey ointment is highly effective in softening older, persistent scabs to aid in removal while promoting the healing of the wound beneath.
-Powerful, natural & fast-acting horse, dog and all-animal wound care
-Made with natural, medical-grade active ingredients
-Stops 99.9% of bacteria immediately to start healing faster
-Provides natural debridement of wounds to shed dead tissue and promote new tissue growth
-Natural neem oil repels insects
-pH balanced and free of hypochlorous acid
-Won't disrupt skin's natural microbiome
-For horses, dogs and all animals.
-Available as a spray gel for touch-free treatment of large areas, and an ointment for long lasting coverage and moisture.
Burns Feed Store carries both the 8 oz spray gel and the 2 oz antimicrobial ointment.
https://burnsfeed.com/wp-content/uploads/2020/01/silver-honey-pic.jpg
1280
924
Robin
https://burnsfeed.com/wp-content/uploads/2015/02/Logo-big-300x112.jpg
Robin
2020-01-21 15:12:12
2020-02-12 11:39:43
New Product Alert