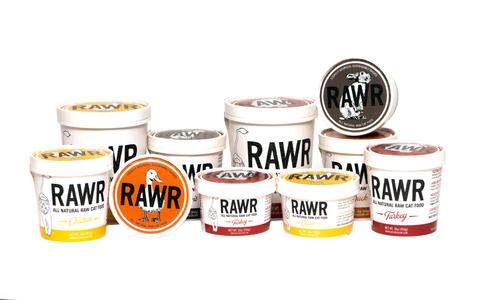 WHY FEED RAW FOOD?
Domestic felines' bodies are very similar to those of their bigger, wild relatives. Wild cats do not eat cooked food or processed grains so why is it assumed that domesticated cats can survive on that type of diet? Raw food is the most natural, vitamin-rich and easily digestible food available for your cat. A cat on raw food will thrive. One of the most common observations our customers make is that their cats have much more energy as nutrients are now more easily absorbed from raw foods versus processed dry or canned products. This boost in energy is often accompanied with better health, and sometimes even the decline of a long term illness or condition.
WHAT CAN RAWR HELP MY CAT WITH?
A raw diet is the purest and most natural form of food available for cats. It allows cats to successfully receive all the necessary vitamins, minerals, amino acids, and proteins to keep their body functioning in a happy and healthy manner. We have seen amazing turnarounds in cats with:
– IBD (Vomiting/Diahrrea)
– Diabetes
– Social Anxiety/Neurotic Behavior
– Dandruff/Psoriasis
– Allergies (both cat's allergies and humans allergic to cats)
– Urinary Tract Issues
– Overweight
HOW DO I TRANSITION MY CAT TO A RAW FOOD?
Although some cats are excited the very first time they try RAWR, cats that have been fed a strictly commercial diet are typically hesitant or even downright stubborn about making the switch. A lifetime of habit can be hard to break, but it is certainly not impossible – and of course all will be worth it once your cat is settled into their new RAWR routine.
The following steps will help you switch to RAWR:
INITIATE SET MEALTIMES –
By nature, cats are not grazing creatures and it is best for their health and digestion to be fed twice a day, morning and evening, with the food left out for approximately half an hour. If your cat is used to having a dish of food laying out all day to graze at their leisure, start taking their food dish away for a short period each day. Gradually increase the time the dish is gone until it is only out for a half hour for breakfast and a half hour for dinner. They will get the hang of mealtime rather quickly and will learn to be excited whenever food is being served.
GRADUALLY REPLACE CURRENT DIET WITH RAWR –
It is beneficial to take a week to allow your cat to acclimate to her new diet. Depending on what your cat's current diet is, there are likely lot of changes happening in their little digestive system. Introduce RAWR by mixing it into their current food to a ratio of 1:3 (1 part RAWR), and gradually increase the ratio of RAWR throughout the week until the switch is complete. If your cat is currently on a dry food or a kibble diet, first transition to commercial wetcat food, then RAWR.
BURNS FEED STORE NOW CARRIES RAWR IN TURKEY AND CHICKEN.
https://burnsfeed.com/wp-content/uploads/2019/07/rawr.jpg
300
480
Robin
https://burnsfeed.com/wp-content/uploads/2015/02/Logo-big-300x112.jpg
Robin
2019-07-01 14:14:10
2019-07-01 14:14:10
RAWR raw cat food!