A huge shoutout to our warehouse manager and Traeger dealer, Troy Giusto, for receiving this letter and plaque from Traeger.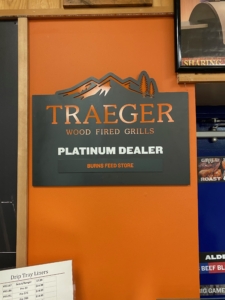 "From Luke Edgar, VP Specialty Sales
Congratulations and THANK YOU for being in the top 3% of Traeger Dealers. This handcrafted with love plaque is to show you and your customers how much Traeger appreciates being represented in such a great store like yours. 
With just over 6 years at the helm of Traeger, Jeremy Andrus, CEO, and his team have been able to take a small scrappy wood pellet grill company that most American had never heard of, out of the Northwest and into the mainstream. Traeger is so much more that just steel and pellets, we've become a true lifestyle brand.
That said, we have to remain humble and hungry, no matter what level of success we achieve. Keep doing more things right than wrong, keep being good partners, keep innovating the products and keep having a ton of fun along the way. We promise not to grow up too much.
The more consumers in the consideration phase we can drive into our platinum doors, the more consumers that will be converted. In order to do that, we have to be easy to do business with across all functions. Except to see improvements as our focus for 2021 is…
Customer experience

Product availability

B&B platform

Elevated trainings

Premium swag & pop offerings

Dealer priority phone line

Platinum dealer input

Dealer surveys to see how we're doing and where we can improve
In closing, we know your store chooses its partners carefully and those it pushes with confidence even more carefully. Knowing all the consumers you have enlisted, times you've had to defend our brand and products, evenings out delivering grills or weekends out helping to fix a Traeger and save the day – we would not be half the brand we are today with you and your team's support.
From all of us at Trager, Thank You!
We have one of the largest Traeger selections east of Portland, come on check out everything we have to offer!!
https://burnsfeed.com/wp-content/uploads/2021/03/Blog-Banners.png
1260
2240
Robin
https://burnsfeed.com/wp-content/uploads/2020/11/bfs_Logo_web.svg
Robin
2021-03-04 13:52:51
2021-03-05 11:17:22
Top Traeger Dealer