Ike Burns had attended WSU and had plans to become a Veterinarian, specializing in poultry. But plans changed and in 1946 he bought a farm in Boring Oregon, raising poultry, cattle and berries. In 1950 Ike Burns purchased a feed store that had been in business approximately three years and named it Burns Feed Store. From 1950-1964 he ran both the business and farm and then sold the farm.
Son, Rawley Burns, after working at the store as a youngster, serving eight years in USAF, joined the business in 1972 as a partner.
Ike Burns retired in 1977. After living several years in California, he moved back to Oregon. He passed away on September 8th, 2010 at the age of 95, after living a full and wonderful life.
The business has steadily grown through the years from 200sq ft of retail to the present 7000sq ft of retail and approximately 10,000sq ft warehouse.
Customers have changed from larger farms and farmers to small hobby farms and hobbyist. Burns Feed Store now has a complete Tack inventory, Pet department (which includes dog, cat, small animal and caged bird), a large Garden and Hardware section, Traeger grills, Fencing and a Gift department that has a little something for everyone!
It has gone from three employees to 18 employees with five department managers and a general manager.
Carol Burns married Rawley in 1975 and has been involved in the business since Ike retired in 1977. Daughters, Melanie and Shelley have both worked at the store since they were old enough to sweep and clean shelves. Melanie worked part time while attending college and now is a RN with Emanuel Hospital. Shelley is now Assistant manager as well as Pet-Wildlife & Gift manager. Her husband Troy is manager of the warehouse and our resident Traeger expert.
Burns Feed Store has won numerous awards through the years, the latest being named Farm Mart Retailer of the Year for the Northwest area.
Rawley's a member of the Gresham Breakfast Lions Club and Director of Clackamas County Bank.
A part of the community since 1950
Check out this video clip one of our old friends shared that ran on a local news station that highlights how familiar of a landmark Burns Feed has been in the community. See how we have changed, and also how much we have stayed the same!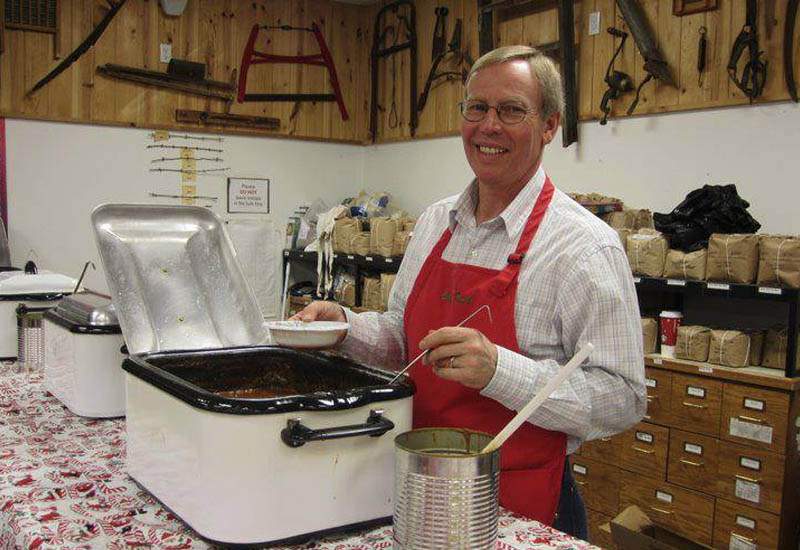 Rick Pentecost
General Manager
Email: burnsfeed.rick@gmail.com
Rick has been an employee of Burns Feed Store since 1986. A native Oregonian, Rick spent 4 years in the US Navy and is a graduate of Oregon State University with a B.S. in Animal Science. Prior to Burns Feed Store, he worked as a salesperson for Ralston Purina. Outside of work Rick enjoys spending time with his family and tending to everyday life on the farm raising pigs and cows.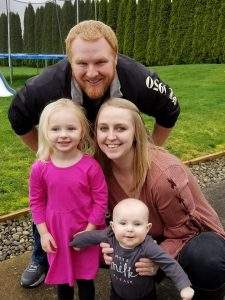 Kasey Geertz
Assistant Manager/ Dept Manager for Pet Food
Email: burnsfeedkasey@gmail.com
Kasey has been an employee of Burns Feed Store since 2009.  Kasey is a familiar face in this area, as he grew up just miles down the road from the store!  He attended both West and East Orient schools, Sam Barlow High School and is a graduate of Eastern Oregon University with a degree in Business Management. Kasey resides in Sandy with his wife Kaylie and daughter's Karsyn and Kynlee.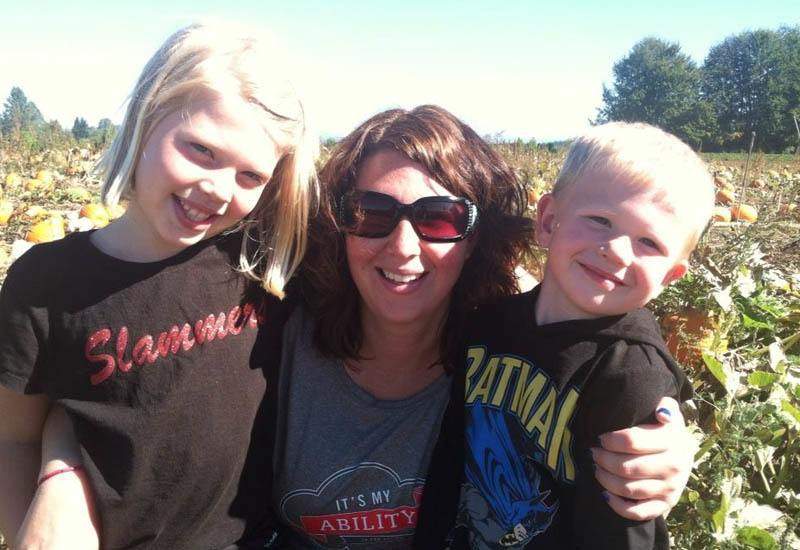 Shelley Burns-Giusto
Assistant Manager/Pet & Gift Dept. Manager/Wildlife Manager
Email: shelleygiusto@gmail.com
Shelley is a 3rd generation Burns of Burns Feed Store.  She is a 1996 graduate of Barlow High School and has completed the Master Gardener Program. As the Manager of three different departments Shelley has put a new twist to your local farm store from the newest in pet fashion to the hottest gift items for all ages. Shelley enjoys spending time with her husband and three children.  Camping, outdoor activities and youth sporting events keeps the family busy!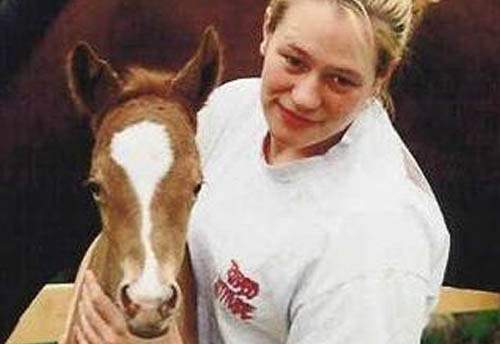 Charity Jackson
Tack Department Manager
Email: cjacksonbfs@gmail.com
Charity has been an employee of Burns Feed Store since 2002. She is our Horse & Tack Department Manager with years of equine experience. As the owner of Annie a Quarter Horse, she feels very fortunate to be able to share her passion of horses on a daily basis with the customers of Burns Feed Store. Outside of work Charity is an aspiring photographer and sometime showcases some of her beautiful and artistic prints at the feed store!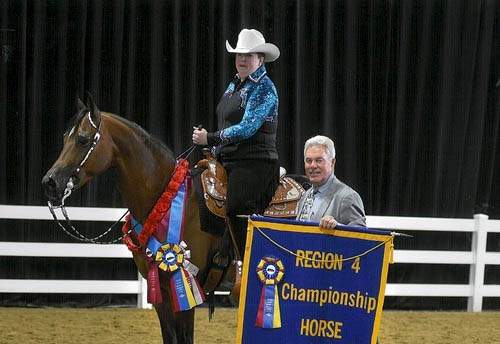 Robin Anderson
Office Manager
Email: burnsfeed@hdweb.com
Robin has been an employee of Burns Feed Store since 2004. She grew up in Boring, attended  Orient schools and graduated from Sam Barlow High School.   Outside of work, Robin enjoys spending time with her husband, showing Arabian horses and sharing her love of horses with her daughter and her Clackamas County 4H group "Moonlight Riders."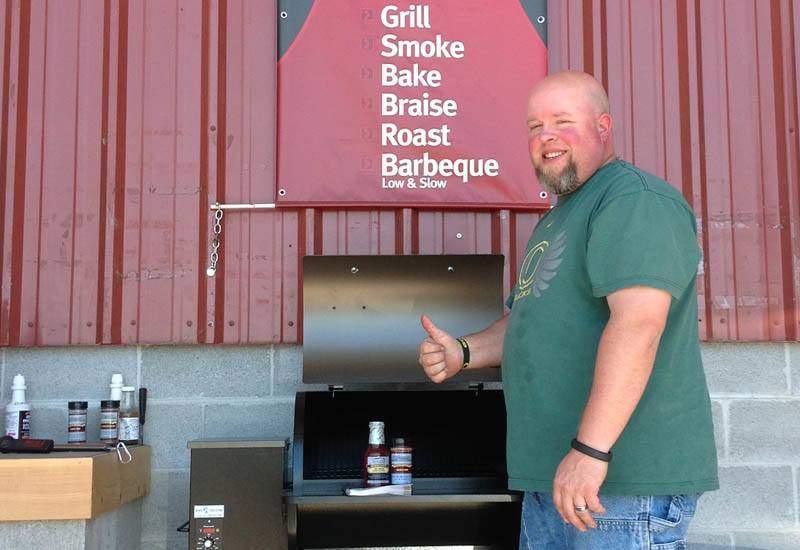 Troy Giusto
Warehouse Manager/Traeger Sales
Email: giustotroy@yahoo.com
Troy has been an employee of Burns Feed Store since 2006 and is commonly referred to as our very own "Captain Traeger". He grew up in Boring, attended Orient schools and graduated from Barlow High School in 1991.  After years of experience driving truck, including sanitation/recycling, long haul and dump truck, Troy decided it was time to step out of the big rig and join the Burns Feed Store crew!  Troy enjoys spending time with his wife Shelley and kids.  His favorite past time is of course watching Oregon Ducks Football and grilling on his Traeger.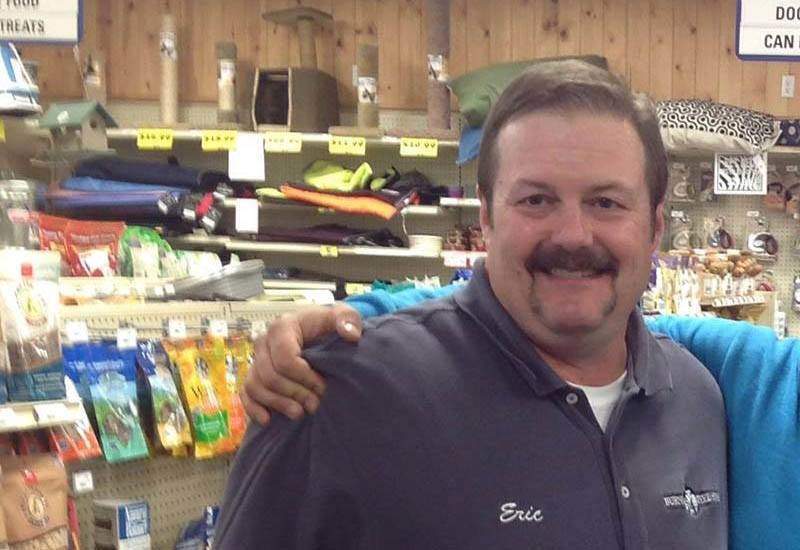 Eric Lund
Garden & Hardware Department Manager
Email: burnsfeederic@gmail.com
Eric has been an employee of Burns Feed Store since 2008.  He grew up in the Sandy area and graduated from Sandy High School.  He attended Oregon State University where he attained a degree in agriculture.  Eric worked for twelve years in landscaping and as an arborist.  He has years of experience in the retail farm store business and we are proud to offer his knowledgeable help to our customers!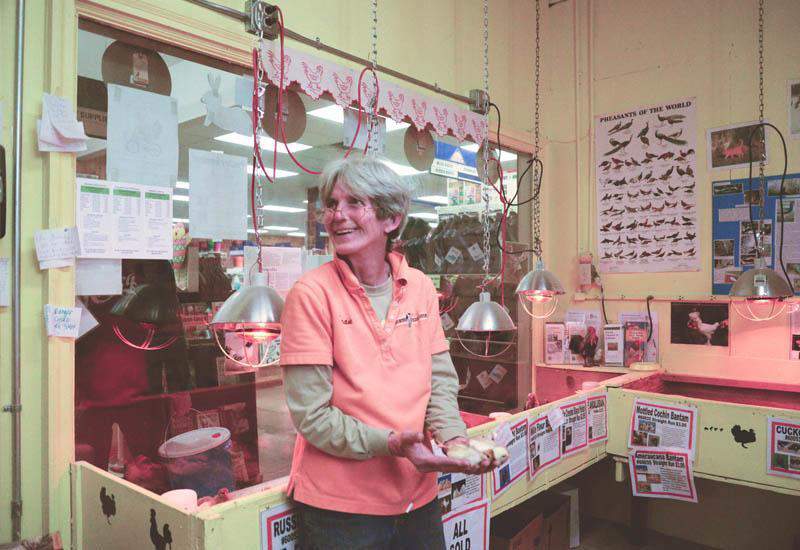 Fran Jones
Fran's Feathered Friends
Email: burnsfeed@hdweb.com
Fran has been an employee of Burns Feed Store since 2004.  Originally from Philadelphia, she came to the Northwest on a three month visit and never left!  That was over 30 years ago!  She has had a number of jobs thru the years including working at nurseries, youth centers and caring for Alzheimer patients.  Here at Burns Feed Store she is in charge of "Fran's Feathered Friends," otherwise known as the chick room.  Commonly referred to as the Chick Lady, Fran has 20+ years of experience with ducks, geese and bunnies as well.  Fran takes great pride in the work that she does and it shows!