Horse Tack, Horse Supplies, and Accessories
We have all sorts of horse people at Burns Feed Store. Several of our employees own horses, several of us show horses. One of our employees is the daughter of a farrier, so we can answer of a lot of your questions from the very basic to the more advanced. We take pride in educating our customers. Feel free to ask questions if you're new to raising horses. We have horse equipment for different disciplines and training levels to match any budget. Burns also have riding equipment including saddles, halters, headstalls, reins, saddle pads (western, English and dressage), and various other training equipment.
Horse Wormers and Vaccines
Your horse's health is extremely important to you (which makes it important to us!), so we have everything your horse needs to stay healthy and happy. If your horse has parasites, such as roundworm, strongyles or tapeworms. Burns Feed has all the horse wormers you need. Horses need different types of wormers throughout the year, and you should be rotating which wormers you are using depending on the season and the climate. We also carry common equine vaccines including West Nile, TetanuS Toxoid, Rhinopneumonitis and 4way or 5way vaccines. If you have any questions, don't hesitate to give us a call or stop in.
Horse Supplements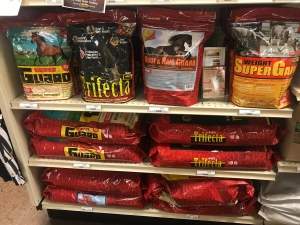 Horses have health issues too. Sometimes your horse gets stiff, maybe they need a little extra shine to their coat, need help with putting on weight and sometimes your horse just needs an extra bit of nutrition. We have supplements for your horse's joint health, supplements to calm your horse down, hoof supplements, and more. Horse vitamins can be a great way to make sure that your horse is getting all the nutrition they need! Top brands of supplements, including those made specifically for horses in the Northwest.
Horse Blankets
In the cold Oregon rain, horses will be stuck outside in the cold. You're probably not going to bring them inside the house, so do the next best thing and pick up one of our winter turnout blankets. They come in different sizes, we can help you measure your horse. The easiest way to measure a horse is to take a piece of twine and run it down from their tail to the middle of their chest.
Horse Grains
There are so many different horse grains for so many different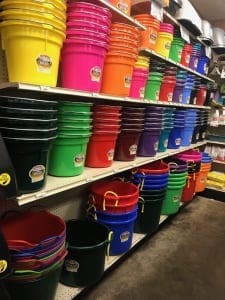 horses, whether that is their age level or their activity level. Horses can have health issues, so we carry many different specialty grains. Most people inside the store have gone to a Purina training session, so our employees will be able to tell you which grain is right for your horse.