Sales and Specials
Check out our new circular happening now! 'Tis The Season For SAVINGS!
Sale Dates:November 27th ~ December 24th, 2023
Manager's Monthly Specials
Each month, our department managers put on sales on some of their favorite products. Check them out and come get yours today!
Olympus Wood Pellets
Sale:
$6.49 each
$295 ton
$290 2+tons
Hotter, Drier and Cleaner than industry standards for "Premium" pellets
The Pellet Fuels Institute (PFI) set standards for all pellets, including "Premium." Olympus pellets exceed these standards in several important ways:
Heat Output: Olympus Pellets are made from hot burning Douglas fir, which produces more heat, per pound, than other wood species used to make premium pellets.
25% Drier Pellets: Olympus Pellets are 25% drier than PFI standards for Premium pellets. Drier pellets contain less water, so they burn more efficiently with more home heat.
75% Cleaner Pellets: Olympus Pellets produce less than 0.25% ash, which is 75% less than the PFI Premium standard. Less ash means you only need to clean your stove a few times per month.
Must Haves
These are some staple items that are a must have in our store. Take a look and come get yours today!
Planting Seeds
We have over a 100 different seeds to choose from! Flowers, vegetables, fruits, and more!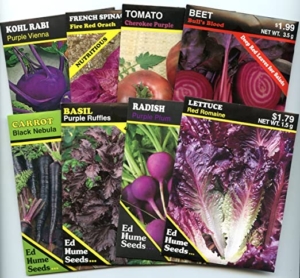 Some of our selection comes from Ed Hume Seeds. Ed Hume Seeds is a family owned and operated business located in the Pacific NW.  They have been selling the highest quality seeds and garden products since 1977.  Their seed line is specially selected for short season and cool climate areas. This makes their varieties perfect for high altitudes and early or late planting in warm climates. Their main goal through the years has been, and continues to be, providing the best quality products to customers. For this reason they use only seeds from the current crop.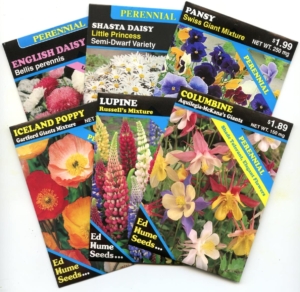 UKIAH Note Speaker
Sale Price: $399.99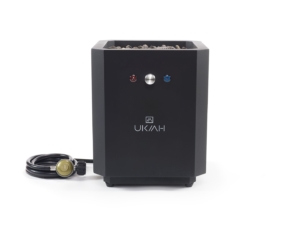 Let the NOTE be your outdoor entertainment hub. Featuring four modes, it will match the vibe of any gathering whether using "Fire Only" mode, "Music Only" mode or "Music and Fire" mode. For the ultimate entertainment, engage the responsive flame technology with "Beat To Music" mode to synchronize the music to the fire for an incredible fire show. A patented 2.0 sound system with superb sound quality and custom designed lithium-ion battery ensures days of enjoyment and extended use before recharging.
Beat to Music (BTM) Mode
2.1 Patented 12V 100 watt sound system
Two 3.5" marine grade speakers
Subwoofer
Wireless connectivity with 60Ft range
4 Modes: Music | Fire | Fire and Music | BTM
Custom rechargeable 30+ hour battery
Quick-connect adapter for 20lb LP tank
Electric starter
Rugged construction
Powder-coated steel body
17 x 14 x 14 Inches // 34 LBS
Traeger: Spices & Rubs
Here at Burns Feed Store, we offer one of the best selections of spices and rubs to help create the best tasting meat on your Traeger. We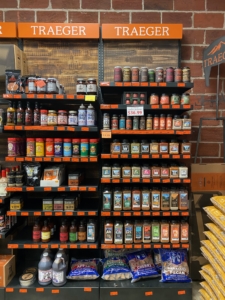 confidently sell top name products knowing they will not disappoint!! Come in and check out all the options ranging from local Oregon brands to the top out of state companies. If you have any questions, come ask Troy for his expertise!!

Traeger
Traeger Invented the Original Wood-Fired Grill over 30 years ago in Mt. Angel, Oregon. We continue to lead the industry as the world's #1 selling wood-fired grill, perfected by decades of mastering the craft of wood-fired cooking. A Traeger grill will transform the way you cook because it creates consistent results, every single time. Fuel your hunger for wood-fired flavor with Traeger.
Blues Hog
A barbeque legend and great friend to many, Bill Arnold is the man behind the now famous Blues Hog Barbecue Sauce. Raised by his grandmother just outside of Memphis, Tennessee, Bill's passion for cooking came at an early age. Racing past the clothes hung on the line and down where the locals had gathered to make "squirrel stew", a young Bill would watch for hours as the hickory slabs were turned under the barrels and the "stew" was churned with a boat paddle.

"One night at a cook, around two in the morning, I was headed to bed. Wasn't asleep for more than 10 minute when someone ran in and shouted, "Bill! You need to cook the hog!" Someone had brought a dog over and began to fight with another dog. Bailey, who was cooking, tried to separate them, but was bitten and lost this thumb! With Bailey rushed to the hospital, it was my duty to man the fire and turn the hog. Around the fire. A Yankee grabbed his fiddle and began to play, and as I swayed to the music, he said, "Look at that Blues Hog, flipping that hog!" That when it stuck! Blues Hog Barbecue!"
Spiceology
Founded in 2013 by award-winning, executive chef Pete Taylor and top food blogger Farmgirl Gourmet (aka Heather Scholten), Spiceology had humble Farmers Market beginnings. Fast forward a couple of years and William Sonoma took notice of this interesting little spice company. A year later, Spiceology launched our Foodservice program.

Now you can find our ingredients and blends in retail greats, homes and grills across the globe and on the kitchen shelves of some of the culinary world's greatest chefs.
Meat Church
The Pittman's hail from the great state of Texas where our love of BBQ runs deep. Matt grew up cookin'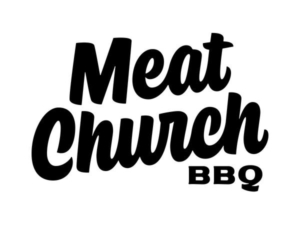 and learning from his Grandma June in Alabama and has spent his life around food ever since. Matt got seriously involved in the BBQ space after taking a trip to Central Texas to taste the real stuff. One bite of salt & pepper brisket and he was hooked. From there on out, BBQ became his lifestyle. Matt would soon get smoke deep into the BBQ lifestyle and begin doing it professionally. Between competing in BBQ competitions, hosting classes, to being the king of Dallas Cowboy tailgates, Pittman became a seasoned pro. 
Bad Bone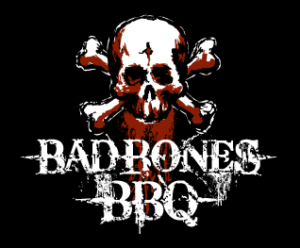 Award Winning BBQ is slow-smoked with fruit woods the old-school way. Homemade and handcrafted we create tantalizing bold flavors with our own sauces, rubs, injections and marinades. We travel the pacific Northwest and the United States competing and perfecting our craft. But it's not just BBQ we do!