Summer is over and cooler; damp weather has arrived. Lawn care is not on the minds of most of us at this time. However, if you want a nice lawn next spring, it is important to care for it now. A healthy, dense, deep green lawn in spring starts with the application of a lawn winterizer. A winterizer is a type of fertilizer applied in fall, or early winter. It promotes good turf color, root development, and disease resistance with only a minimal amount of growth.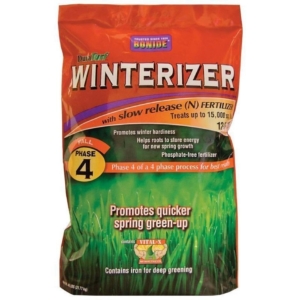 Good lawn winterizers are somewhat lower in nitrogen, but higher in potassium, with little or no phosphorous compared to a lawn fertilizer used during the growing season. The winterizer will have slow-release nitrogen and micronutrients to provide extended feeding and nice green color through winter, without stimulating lawn growth. Higher potassium levels promote root development and vigor, and help build disease resistance in the grass too.
Fertilization with a lawn winterizer will keep your lawn healthy through the winter and promote dense growth and good color come springtime.  You may be applying a lime treatment to the lawn this fall too.  An application of winterizer can be done at the same time if you like. The lime reduces soil acidity. Your lawn grows better and takes up nutrients more readily in a slightly acidic or neutral pH soil.
Burns Feed Store has the quality winterizer and lime products you need for maintaining a healthy lawn through winter.  Pick up a bag or two of our Fertilome lawn winterizer, plus a few bags of Hi-Yield fast-acting lime. Your lawn will appreciate it and so will you when you start Spring 2022 with a nice lawn that is healthy, dense, and has that green color you love!
https://burnsfeed.com/wp-content/uploads/2021/09/Blog-Banners-8.png
1260
2240
Robin
https://burnsfeed.com/wp-content/uploads/2020/11/bfs_Logo_web.svg
Robin
2021-09-01 09:17:21
2021-09-01 09:22:10
Winterizer Benefits